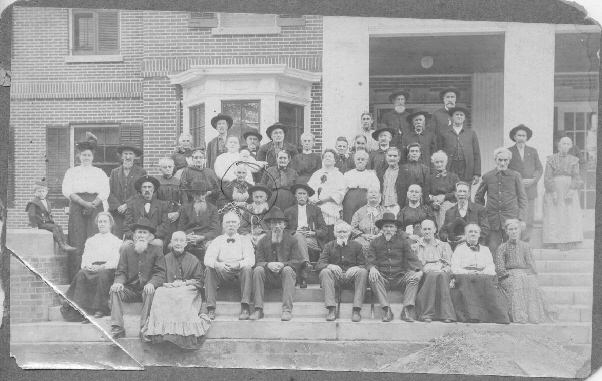 Photo submitted by Carol Walsh - Quincy, IL Soldiers Home. The couple circled in center is Sarah and Jim Williams from Pike county DATE OF PHOTO IS UNKNOWN - I have NO OTHER information on this photo.
IL Soldiers & Sailors Home - The name was changed in June, 1973, to the "Illinois Veterans Home at Quincy" as it is known today.
NOTE: Also see IL (Revised May 4,2012): State Archives
Also See: Quincy Nat'l Cemetery
Illinois in Civil War
The website for the Quincy S&S Home has been removed. Please see the following for more information:
For further information, please contact:
The Adjutant Illinois Veterans Home - Quincy
1707 N. 12th Street
Quincy, Illinois 62301
Phone: (217) 222 - 8641
THE TAMPICO AREA HISTORICAL SOCIETY ARCHIVES THE FOLLOWING BOOK:
Illinois Soldiers' and Sailors' Home At Quincy: Volume I
With Admissions of Mexican and Civil War Veterans 1887-1898
Indexed by Lowell M. Volkel
Published by: Ye Olde Genealogie Shoppe
P.O. Box 39128
Indianapolis, IN 46239
PREFACE: The Soldiers' and Sailors' Home was established by an act of the General Assembly, June 26, 1885, "to provide a home and subsistence for honorably discharged ex-soldiers and sailors who enlisted from Illinois in the U.S. Army or Navy, during the war of the rebellion and the Mexican War, and who have since become and are now residents of the State of Illinois, and who may have become disabled through. . . such service, or who by reason of old age, or other disabilites, are disqualified from earning a livelihood. . ."
The commission appointed by Governor Oglesby to locate the home under the provisions of this act, selected a tract of 140 acres just outside the northern limits of the city of Quincy. Building operations began in May, 1886. The home was formally opened in March, 1887.
This book contains copies of pages from the Fourth, Fifth, Sixth, and Seventh Biennial Reports of the Board of Trustees and Officers of the Ilinois Soldiers' and Sailors' Home. Only those pages listing admissions to the Home were copied. Much additional data about the operation of the Home may be found in these reports. Copies of the full reports are in the Illinois State Library, Centennial Building, Springfield, Illinois 62756.
Each Soldier or sailor was assigned a "Registry Number" upon admission to the Home. These numbers were assigned in consecutive order beginning with the number eleven. If a discharged veteran were later readmitted, he kept the number initially issued to him. Many names in these reports are obviously mis-spelled. A researcher should check the index for various spellings of a name.
This volume covers 4,418 separate admissions to the Home between March, 1887. amd June 30, 1898. Many re-admissions are also noted. All of the men listed in this book served their country in the Mexican War or the Civil War. Beginning in 1899, Spanish-American War soldiers also became eligible to enter the Home. Projected future volumes of this series will include Spanish-American soldiers as well as veterans of the earlier wars.
Mary Redmond and Christine Henderson, Research Librarians, Illinois State Library, have been especially helpful in the preparation of this publication.
Lowell M. Volkel, August, 1975
To request photocopies contact:
Illinois State Archives
Below is the index from the book we have. Highlighted names have been transcribed - simply click on that name. If it has not been highlighted, contact Denise McLoughlin and request a transcription.
INDEX
With 4,418 veterans listed, this publication contains admission records for the Illinois Soldier's and Sailor's Home at Quincy, Illinois (1887 through 1898). Each entry includes: Date of Admission Name of Soldier or Sailor File Number Name of Company and Regiment Length of Service (When Noted) Date of Discharge, If Applicable Rank Amount of Monthly Pension from U.S. Government Nature of Disability County of Residence Examples of Admissions #2532
BORTS, John M, Company A, 50th Illinois Infantry, Rank: Private, Amount of Monthly Pension: $24.00, Disability: Paralysis, Admitted from Adams County, Illinois on May 5, 1893. #2603 FIGLES, Martin, Company H, 1st Louisiana Infantry, Private, Length of Service: 12 Months, 66 Days, Amount of Monthly Pension: $12, Loss of Right Leg Below Knee, Admitted from Peoria County, Illinois on August 2, 1893.
Transcribed names (click here or click on highlighted names below)
ABBOT ABBOTT ABELL ABERNATER ABLADIN ABLE ABRELL ACKAFF ACKOFF ADAIR ADAM ADAMS* ADDLEMAN ADKINS AINSWORTH AKINS ALBERT ALDRICH ALDRINGER ALEXANDER* ALFREY ALGER ALIXSON ALLAMAND ALLAMOND ALLEN** ALLENDER ALLISON ALTIC ALTMAN ALVIS ALWELL AMBROSE John W. AMES ANDERICK ANDERSON** ANDRE ANDREW ANDREWS ANDRUS ANSORGE ANTHONY ANTONE APPLEGATE APSLEY ARBELT Abner ARBUCKLE ARCHIBALD ARENDT ARKEBAUER ARMSTRONG* ARNETT ARNOLD* ARNOT ARSNALL ARTHUR ASHBURY ASHBY ASHER ASHLAND ASHWELL ASSABROOK ASSMAN ATCHISON ATHERTON Charles ATKINS ATKINSON ATTERBURY ATWOOD AUSTEN AUSTIN AYERS AYLWARD BACON BAER BAHEL BAHEM BAHNEY BAICHLY BAIL BAILES BAILEY* BAILIFF BAIN BAINTER BAIRD BAKER* BALDWIN* BALL BALLARD BALLENGE BALLIET BALLIST BALLOU BALLUT BALMER BAMBER BAMFORD BAMMEL BANDLE BANE BANELLE BANES BANNARD BARBER BARD BARGER BARGHART BARKER* BARKLEY BARNABY BARNETT Charles S. Barnes, BARNES* BARNHOLDT BARR BARRETT BARRON BARROSS BARROTINE BARRY BARTELLS BARTELS BARTHALOW BARTHOLOMEW BARTIAN Philander A. BARTLETT BARTON BASFORD BASLER BASSATINE BASSETT BATESON BAUER BAUMAN BAUMGARTNER BAUMLIEN BAUVER BAYER BAYLES BEACH BEADLE BEAL BEAMAN BEAMER BEAN BEARD BEASLEY BEAUCHMIN BECHTEL BECK BECKER BECKET BECKMAN BEDDOES BEELEY BEER BBEERS BEERTERMAN BEERUP BEGG BEHAME BEHM BEIGEH BELIS BELL* BELLAIR BELLINGTON BELLOWS BELLS BELNER BELTER BELTRAM BEMSLICK BENBOW BENEDICT BENESLY BENNER BENNETT* BENOIT BENSON BERGEN BERGHARDT BERGMAN BERIAN BERLINE BERNHARDT BERRIAN BERRY* BESWICK BETER BETZ; Azra BEWLEY; BERRYMAN BIENER BIERSTATT BIERVICK BIGELOW BIGGS BILGER BILKA BILLINGTON BINGLE BISHOP BIRG BIRGLAND BIRMINGHAM BISSELL BITE BIXBEE BLACK* BLACKMAN BLACKSHAW BLACKSTOCK BLAESY BLAINE Andrew BLAIR BLAKE BLAKEWELL BLAM BLANCHARD BLANEY BLANK BLASE BLATTER BLATTNER BLIND BLOOM* BOAK BODELSON BOERETON BOGAN BOGGESS BOGGS BOHAMON BOHEN BOISE BOILES BOLDING BOLES BOLIN BOLLMAN BOLTIN BOND BONE BONNER BOOKER BOORMAN BOOTH BORDEN BORGEAT BORINE BORLAND BORMAN BORRILL BORTS BORUM BOSSEL BOSWORTH BOTHA BOTHAM BOULANGER BOURNE BOWERS BOWLBY BOY BOYD BOYDEN BOYLE BOYLES BOZEMAN BOZIER BRACKEN BRADBURY BRADFORD BRADSHAW BRADWAY Samuel F.BRADY BRALEY BRANCH BRAND BRANGER BRANN BRANNAN BRANNON BRAUM BRAUNFELS BRATTON BRAYDEN BRECHT BREIT BRENING BRENNER BRERETON BRETZ BREWER BREYER Lewis BRICKER BRIDGES BRIDGMAN BRILL BRIMINGHAM BRINGMAN BRISTOR BRISTOW; Isaac BRITENDALL BROADWATER BROCK BROCKLEY BROCKSMIDT BROCKUS BROCKWAY BROD BROOKS BRONSEN BRONSON BROWN** BROWNELL BROWNLEE BROWNING BRUCE BRUCK BRUETT BRUNER BRUNKE BRUNS BRYANT* BRYER BUCHANAN BUCHEN BUCHENFIELD BUCKER BUCKNER BUESHER Mysses BUFFINGTON BULFIN BULGER BULL BULLOCK BUNKER BUNLEY BUNN BUNRETT BUNTING BURCH BURCHELD BURCHELL BURDEN BUREY BURG BURGE BURGEN BURGESS BURGESSER BURGETT BURGH BURK BURKE BURKHARDT BURLINGAME BURNARD BURNESON BURNETT BURNISON BURNS* BURR BURROWS BURSLER BURTON* BUSBY BUSCH BUSCHOR BUSER BUSEY BUSH* BUSHAWN BUSIAN BUSSE BUSSEY BUTLER BUTT BUTTICAZ BUTZ BYERS BYRD BYRNES BYRON CADY CAERNER CAHILL CAIN CALABAUGH CALDWELL CALHOUN CALL CALLISON CALVIN Wm. CAMPBELL, CAMPBELL* CAMERFORD CAMPMAN CANADA CANE CANTILLON CANTSELL CAPLIN CAPLINGER CARIELL CARMAN CARNEY CARNWELL CARPENTER CARR* CARRIGAN CARROLL CARSON CARTER* CARTURZVELS CARY CASE CASH CASON CASPERS CASS CASSADY CASSEL CASSELY CASTELLO CATEY Thomas CAVANAUGH CAVANUAGH CAWLEY CAWTHORN CAYNE CHADDERDON CHAMBERLAIN CHAMBERS CHANDLER CHAPMAN CHAPPEL CHAPPELL CHARLES CHASE CHEEK CHELSEY CHICK CHIELD CHILDERS CHILDS CHILES CHILLS CHRIST CHRISTIE CHRISTMAN CHRISTOPHER CHROMGER Robert CHURCH CHURCH CHURCHILL CHURCHMAN CENTER Anthony CINCERE CLAMPITT CLANCY CLANSEY CLARK** CLARKSON CLAYTON CLEAR CLEAVELAND CLEM CLEMONS CLINE CLUDRAY CLUTE COAKLEY COATES COATZER COBURN COCHRANE CODINGTON COE COFFEMAN COFFMAN COFIELD COGAN COGDAL COGSWELL COKELY COLBY COLE COLEBAUGH COLEMAN COLEMERE COLLIER COLLINGS COLLINS* COLSEN COLSON COMBS COMPSTON CONDIFF CONGDON James CONLEY CONN CONNAHAN CONNELL CONNELLY Maurice CONNER; CONNER CONNERLY ; CONNERS CONNOR CONNORS CONOYER CONRAD CONSLEY CONVERSE CONWELL COOK* COOLIDGE COOLRIDGE COON COONEO COOPER COPLINGER CORBIN CORBINE CORBRIDGE CORHEY CORLEW CORNWELL CORRIGAN CORY COSGROVE COSTELLO COTTA COTTRELL COUCH COUNTRYMAN COURTNEY COVINGTON COWAN COWARD COWEN COX COY COZEAN CRABLE CRAIG* CRAVEN CRAVENS CRAWFORD CRAWLEY CRAWSER CREGO CRILLY CRIMMINS CRISE CRISMAN CROCKER CROOKS CROSBY CROSS CROSSAN CROSSTHWAITE CROW CROWLEY CRUM CRUSTHWAIT CRUTCHFOLD CRUTHERS CULBERTSON CULLEN CULLISON CULSON CULVER CUMBERLAND CUMMINGS CUNAGHAN CUNDIFF CUNDYF CUNG CUNNINGHAM CUNY CURRAN CURTIS CUSBEY CUTLER DABNEY DABOURG DADD DAGGETT DAGNAN DAILY WilliamDAINS DALLEMER DALTON DALY DAME DANIEL DANIELS DANN DANNER DATIN DAUGHERTY DAVENPORT* DAVIDSON* DAVIS** DAWSON DAY DEAN* DEARTH DEATHERAGE DEAVEN DEAVIN DICK DECKER DEFFENBOCKER DEHAVEN DEIDRICH DELANEY DELANO DELP DEMPSEY DENHAM DENIS DENMAN DENNIN DENNIS DENNISON DENNY DEREMO DERMIT DERRICK DESANTOS DESANTUS DETHRO DETRICH DEVINE DEW DEWATNEY DEWEY DEWITT DEWITT DEXTER DICK DICKERSON DICKEY DICKMAN DICKNEEDER DICKSON DIEBOLDT DILLON DIMICK John DIMON DINKLAGE DIRKENS DIRKSEN DISELER DISSLEAR DISSLER DIXON DIXSON DOBLINGER DOCKSTADER DODSON DOENGES DOLAN DOLQUIST DOMAN DONAELLY DONAHUE DONLEY DONNELLY John DONOHER DONOHUE DOOLE DOOLEY DORAN DORFF DOROVAN DORSCH DORSEY DOSSETT DOTTSCHER DOUGAN DOUGHERTY DOUGHTY DOUGLAS DOUGLASS DOWD DOWDLE DOWNEY* DOWNING DOYLE* DRAKE DRAM DRANSFELD DRAYFUS DREDGE DREHER DREICHLINGER DRENNAN DRENNEN DRESCHER DRISCOE DRISCOLL DRIVER DROLLINGER DRUM DRYDEN DUCKENBRODT DUCOING DUDGEON DUDLEY DUERR DUESEN DUFFER DUGANS DIGGAN DUKES DUNBAR DUNCAN DUNDAS DUNEVAN DUNHAM DUNLAP DUNN** DUNNE DUNNIGAN DUNNINGTON DUNSNAN DUNTON DUSTIN DWYRE EAGAN EARL EASLEY EASTIN EASTMAN EASTWOOD EATON EBEL EBERMAN EBERT EBEY ECKHART ECKRATH EDDY KEDGECOMB EDWARDS* EGAN EHL EHRLICK EICHLER EISCHEN EISENHARDT ELBERT ELBRECHTER ELEG ELEY ELGAN ELLEG ELLICKSON ELLINGTON ELLIOTT ELLIS ELLWAGER ELLWOOD ELTON ELTZ ELWOOD EMERSON EMMEL EMMERT EMMLER ENDER ENGHAUSER ENGLAND ENGLE ENGLISH ENNIS ENRIGHT EPELDING EPPERSON ERB ERBE ERDMAN ERFENMAN ERICKSON ERNEST ERRICSON ESTELL William ETHERIDGE ETTINGER EUSTACH EVANS* EVERARD EVERETT EVERHART EVERLY EVERS EWERS EWING EYMAN EZARD EZZELL FABRIZ FAERBER FAGAN FAHEY FAIRDERE FALAND FALK FANCHER FANNEN FARLEY FARMER FARNHAM FARREL FARRELI FARRELL FARREN FARRINGTON FAVERTY FAWKNER FAY FEAZEL FEIGHNER FEIRST FELKER FELSCH FERGUS FERGUSON FERRARA FERRELL FERRIA FERRIS FESSLER FETTER FIELD FIGLES FILER FILSON FINCH FINGER FINK FINKLE FINNEY FISCHER FISHBACK FISHEL FISHER* FISHPAUGH FITCH FITSPATRICK FITZGERALD FITSPATRICK FLACK FLAGG FLAHERTY FLANAGAN FLANANS FLANIGAN FLATH FLEG FLEMING FLEMMING FLESCHERT FLETCHER FLINT FLOSS FLOWERS FLYNN FOGARTY FOGGEY FOGT FOLAND FOLEY FOLLOWELL FOLLUNER FOLSOM FOOD FOOTE FORD* FORDERER FOREAKER FORKNER FORKUM FORNEY FORREST FORRESTER FORSMAN FORT FOSSIL FOSTE FOSTER* FOUCH FOUNTAIN FOUTS FOWKES FOWLER FOX* FRAEZER FRAIL FRANCE FRANCES FRANCIS FRANEY FRANK FRANKINSTEIN FRARY FRASIER FRECH FRECK FREDENBERG FREDERICK FREE FREELAND FREEMAN FREES FREUND FREW FREY FRIAR FRIDELLE FRIEND FRIES FORELICK FROLICH FROLINGER FROST FROTHINGHAM FRUIN FRY FUGATE FUHRMAN FULLER FULSINGER FULTON FUNCK GABRIEL GAEDERT GAGE GAHR GALLACK GALLAGHER GALLIHER GALLISPIE GALLOWAY GALVAN GALVIN GAMBREL GAMMON GANNON GARDNER* GAREY GARMES GARNEY Henry GARRETT Emanuel J. GARRISON GARTERNICHT GARTHOEFFNER Luther GARTHWAIT GASKILL GATER GATES GATLIN GAUGER GAUGHRAN GAUKRODGAR George GAUSS GAVEN GAVIN GAYLORD GEER Samuel P GEERS GEHMT Ferdinand GEHRT; GEIGER GEORGE GEPHART GERDES GERMANN GERMER GERNER GERRITY GERSHWINDER GERVITY GESCHWIND GESHWINDER GESLER GIBBINS GIBBONS GIBSON GILBERT GILCHRIST *GILL John Gill; GILLAM GILLARD GILLASPIE GILLILAND GILLMAN GISKE GIVEN GLACKEN GLADSEN GLADSON GLASFORD GLASGOW GLATAAR GLENN GLIDEWELL GLOBE GOBEN GODFREY GOEBEL GOEPPERT GOER GOERIG GOESTCHIUS GOETHE GOLD GOLDBURT GOLDEN GOLLEHER GOLLIHUR GOMES GOODMAN GOODRICH GOODWIN GORDON GORMAN GOSCH GOSCHWIND GOSS James H.GOSSETT GOTT GOTTLAB GOTZ GRACE GRAFFE GRAHAM* GRANT GRANTHAM GRAVES GRAY* GRAYBILL GRAZIER GREATHOUSE GREEN**James R. Green GREENLEAF GREENLEE GREENWOOD GREER GREGG GREGORY GREIN GREINER GRESCH GRIFFIN GRIFFITH GRIGGS GRILL GRIMES GRIMSLEY GRINT GRISWOLD GROOM GROSS GROTH GROVES GRUBER GRUENEWALD GRUHER GRUNEWALD GRUSE GUBBINS GUECLERK GUERIN GUILL GUNDERSON GUNN GUNNING GUNTER GUNTHER GUPTILL GURTHRIE GUSAWAY GUSHARD GUSSETT GUTCHES GUTTERSOHN GWINN GYLVIN HABERKORN HABERSTICK HACK HACKETT HADLEY HAEFELE HAFFLER HAGENS HAGERTY HAGGARD HAGGERTY HAGLE HAHMANN HAHN HAIGHT HAUILEY HAINE HAINES HAJEK HALE HALEY HALL* HALLFORD HALPIN HAMBER HAMER HAMES J. L. HAMILTON HAMMACH HAMMER HAMMON HAMMOND HAMMONDS HAMON HANALLY HANAN HANCOCK HANER HANIE HANKINS HANLEY HANLON HANLY HANNALSTON HANNON HANSON HARBESON HARD HARDEN HARDIN HARDING HARDWICK HARE HARGET HARMAN HARMON HARPER HARRINGTON HARRIS** HARRISON HART HARTGROVE HARTIGAN HARTINGER HARTLEY* HARTMAN HARTZ HARVEY HASEBRIG HASSELMAN HASTINGS HATCH HATCHER HATHERTON HATHOM HATTON HAUBROCK HAUCK HAUG HAUGHEY HAVEN HAVENS HAWBACHER HAWKINDS HAWLEY HAWTHORN HAY HAYES HAYNE HAYNOR John B. HAYS HAYS* HAYTE HAYWOOD HAZELWOOD HEACOX HEALD HEANEY HEATHJames HEAVELIN HECK HEELING HEENAN HEFLIN HEIMBACH HEINBAUGH HEINRICHS HELBIG HELLINER HELMS HEMENOVER HEMENWAY HENINGWAY HEMMETT HEMMUEL HEMPHILL HENDER HENDESON HENDRICKS HENDRIX HENGEL HENNESSEY HENNESY HENRIE HENRY HENWOOD HEPBURN HERDINGER HERLEHEY HERMAN HERNDON HERPIN HERRICK HERRINGTON HESLEP HESLET HESS HETTEN HEWETT HEWITT HICKEY HICKMAN HICKS HIGGINSON HIGHLAND HIGLEY HILANDS, Caleb Hill, Crawford A. Hill, Francis W. Hill, Franklin R. Hill, Frederick Hill, HILL* HILLIARD HILPISH HINCKLEY HINER HINES HIRSH, HIRT HISER HISLING HOBBS HOBDAY HOBIN HOBSON HOCBEL HOCK HODGE HODGES HODGSON HOEBEL HOELTZE HOESLE HOEY HOFFMAN HOFFNER HOGAN HOGLAN HOHING HOHL HOLBROO HOLDENRIED HOLLAND HOLLENBACK HOLLENBECK HOLLINGSH'D HOLLINGSWORTH HOLLIS HOLLISTER HOLLODAY HOLLOMAN HOLLOWAY HOLLY HOLMES* HOLSEY HOLT* HOLTON HONICKER HOOD HOON HOOPER HOOVER Charles Hopkins, John F Hopkins, Samuel Hopkins, Wm. Hopkins HOPP HOPPE HOPPER HORD HORGAN HORINE HORN HORR HORTON HOSEY HOUCK HOUGH HOUGHTON HOUK HOULIHAN HOVEY HOWARD* HOWE HOWELL HOYLAND HOYT HUBBARD HUBBART HUBBERT HUBBIRT HUBER HUBERT HUDDLESTON HUDSON HUFF HUFLIMES HUG HUGE HUGGINS HUGHES** HULBERT HULBRAUT HULING, Balaam Hull, Jos. HULL, Wm. Hull, HULSE HULSEMAN HULTBURY HUMPHREY HUNT, William HUNTER; William H HUNTER, HUNTER* HUNTINGTON HUPE HURD HURLBURT HURLEY HURST HURT HUTCHINGS HUTCHINSON HUTHER HUTSON HYDE HYLER Edmund HYSEL IDEN IHRINGER ILER ILIGAR ILLGNER INGRAM* INMAN IRISH IRWIN ISAACS ISDELL ISEMAN ISHAM ISHMAEL ISRAEL JACK JACKSON* JACKY JACOBS Peter JACOBY JAECKEL JAEGGE JAHN JAMES JAMESON JEFFRIES JENKINS JENKS JENNINGS JEREMIAH JEROLOMAN JETT JINER JOBST JOERNDT JOHN JOHNS JOHNSON** JOHNSTON JONES** JOSLIN JOYCE KAEPPILE KAERIGER KALB KALEY KANDER KANISH KANLIG KAPPLE KARG KARL KAUFMAN KAUNE KAYSER KEALIN KEANE KEAR KEARNEY KEARNS KEATING KEEFE KEEL KEESLER KEGHAN KEILY KEIME KEINS KEISER KEISTER KEITHLER KELLAR KELLER KELLERMAN KELLEY KELLY* KELSE KEMMLER KEMPER KEMPHILL KEMPF KENAUBLE KENDALL KENNEDY* KENNEY KENNY KENT KERBY KERCHEVAL KERNAN KERP KERR KERSEY KERSICK KERSTON KESSLER KETTERING KEUCHLER KEUNS KEYES KEYHOE KIDD KIEFER KILDAY KILE KILNER KILPATRICK KIMBALL KIMMIUS KINDER KINDLE KINDRED Charles W KING, KING KINGSBURY KINN KINNE KINNEY KINSLEY KINZLE KIRBY KIRK Isaac KIRKPATRICK, Jas. M. KIRKPATRICK; KISH KITE KITTEN KITTES KLAR KLEINBRUMMER KLEMME KLIEN KLIPPELL KNAPP KNEBER KNIFFEN KNOBLE KNORR KNOWLES KNOWLTON KNOX KNUSTROM KOBLER KOCH KOEHLER KOENIGH KOHBERRY KONIG KOONTZ KOP_PEHL KORN KORNMEYER KOTTINGER KOWATS KRAEMER KRAFT KRAMMENER KRAPS KRATZER KRAUSS KREMMEL KRENTZBURG KREUZER KRILE KRINKER KRINKLER KRONE KROWELL KRUG KRUGER KRUM KRUSE KUECHLER KUEFNER KUEHLER KUHOT KUTZ LACHEMEIER LACHINA LACOST LACROIX LAEFFIER LAKE LAMAR LAMB LAMBERT LAMORA LAMPE LAMPHER LAMPPRECHT LAMPRECHT LAND LANDERS LANE LANFORD LANGANBACHER LANGFORD LANGGUTH LANGIN D.B. LANGLEY LANGSTRAIS LANGSTRAUS LANSING LANSING LARGENT LARSON LAUB LAUBSCHER LAUGHLIN LAVALLE LAVERY Rufus LAVISH LAWHEAD LAWLER LAWRENCE* LAYTON* William LAYTON; LEACH LEAS LEATHERMAN LEDDY LEE* LEHERRINGER LEHMAN LEISHMAN LEMAR LEMASTERS LEMLEY LEMLY LEMON LEMPPRECHT LEMURRY LENNEY LENTZ LEOFFLER LEONARD LEROY LERVIS LESHER LESLIE LESSING Wm. H. LESTER LEVANS LEVERTON LEVOY LEVY LEWIS LIDDY LIDLE LIEB LIEBERG LIGHT LIGHTFOOT LILLY LIMBERT LINCOLN LINDEN LINDSAY LINGERBACHER LINK LINKEN LINN LINNE LINHLEMAN LINTON LIPE LIPPINS LISTON LISTOR LITTLE LITTLETON LIVERMORE LIVINGSTON LOCKTHALER LOEFFEL LOESCHER LOEVE LOFTON LOGAN LOMIS LONEY LONG LONGABUAGH LONGFELDER LONGFELLOW LONGWELL LOOMIS LOONROD LOOP LOSEE LOTT LOUDAN LOUDERBACK LOVE LOVEJOY LOVEKEN LOVELL LOVELY LOVING LOWE LOWELL LOWNDS LOWREY LOWTHER LUCAS LUCK LUCY LUDRECK LUDRICK LUMLEY LUNBECK LUNDERDALE LUNDY LYMAN LYNCH LYNSKI LYON LYPE MCALENEY MCALLISTER MCANDREWS MCANNALLY MCBRIDE MCCABE MCCAFFERTY MCCALLEY MCCALLIUS MCCAMMY MCCANN MCCARDLE MCCARTHY MCCARTNEY MCCARTY MCCAUCHIE John MCCAULEY MCCHELANEY MCCLAIN MCCLAREN MCCLENTHAN MCCLENTHEN MCCLINTOCK MCCLURE MCCOMBER MCCONATRA MCCONAUGHY MCCONNELL MCCORKLE MCCORMICK MCCOWAN MCCOY MCCRARY MCCUAN MCCUE MCCULLOUGH MCCULLY MCCUNE MCDERMOTT MCDONALD* MCDOUGAL MCDOWELL MCFALL MCFARLAND MCFARLIN MCFURLOW MCGARRATH MCGEE* MCGHEE MCGILL MCGINNIS MCGLASSON MCGOWAN MCGOWEN MCGRATH MCGRAW MCGREGOR MACGREGOR MCGREW MCGUIRE MCGURK MCHENRY MCINTYRE MCKAY MCKEE MCKEEVER MCKENDALL MCKENDRY MCKENNEY MCKIEG MCKINLEY MCKINNEY MCKINSEY MCLAIN MCLANE MCLAUGHLIN MCLEAN MCLEAREN MCLENAN MCLEOD MCMACKIN MCMAHAN MCMAHON MCMANUS MCMASTERS MCMILLAN MCMILLIN MCMULLEN MCMURRY MCNAMARA MCNAMEE MCNANNA MCNAUGHTON MCNEENEY MCNEIL MCNEW MCNIFF MCNULTY MCPHAIL MCPHERSON MCROY Nicholas MCSHERRY Levi W. MCSHOOLERMCSMITH MCSPANN MCSWIGGEN MCTIGUE MCVAY MCVEY MCWHINNEY MAAS MACHEL MACK MACKEL MACKENZIE MACKEY Henry MACKISON MACKLIN MADDEN MADIGAN MADISON MAGAW MAGNER MAGNESS MAHAN MAHON MAHONEY MAINS MALCOM MALONE MALONEY MALOSH MALQUENNY MALYON MANG MANGAN MANGE MANIES MANLY MANN MANNES MANNINGHOUSE MANTLE MAPLE MANANVILLE MARCH MARDER MARKET MARKIN MARKS MARKWELL MAROLF MARRATT MARIX MARROW MARS MARSH MARSHALL MARSLAND Peter Martin,MARTIN* MARTON MAS MASE Edward B.MASON MASSEY MASSIC MASSIE MASTERS MATHEWS MATT MATTHEWS MAURER MAUSER MAXCY MAXEY MAXWELL MAY MAYER MAYO MAYOL MEAD MEAGHER MEAHNAN MECARTY MEDAVIS MEDLEY MEDLING MEEKER MEEKS MEFFORD MEGGISON MEHAN MEI MELCHER MELLAN MELLES MELLINGER MELLOR MELLOY MELTZ MENDEL MENDENHALL MENDY MENNOR MENSIES MEREDITH MERO MERRITT MERRYMAN MERWIN MESERVE MESSENGER MESSIGADER METCALF METTLER METZGER MEULLER MEYER* MEYERS MICHAEL MICHAELS MICHENHEIMER MICKLE MILAN MILEY MILLAN MILLARD MILLER** MILLS MILNOR MILODY MILSTEAD MILTON Charles MINER MINKLER MINNINGER MITCHELL* MIURE MOBLEY MOCKBEE MOHANNANN MOHRHARD MORER MOLONEY MONK MONROE MONTA MONTANYER MONTGOMERY MONTTE MOOK MOON MOONEY MOORE** MOORMAN MORAN MOREHEAD MORGAN MORGANSTEEN MORGANSTEIN MORONEY MORRIS* MORRISON MORRISSEY MORROW MORSE MORTON MOSCRIPT MOSHIER MOSIER MOTLEY MOUNT MUELLER MUENCH MULCANNER MULDOON MULFORD MULHEIM MULKENS MULLEN MULLER MULLIGAN MULLIKEN MULLINS MULVANE MUNICRUGER MUNNIGKOFF MUNNIKHINZEN MUNSCH MURPHY* MURRAY* MURREY MUSDER MUTH MYER MYERS* NAEGLE NASON NASWORTHY NATHAR NATION NAUGLE NAYLOR NEAL NEALON NEBGEN NEEF NEELY NEESON NEFF NEIL NEILAND NELAN NELL NELSON NESS NESTOR NEUGENT NEUN NEUSUMDER NEVILLE NEWBY NEWCOMB NEWCOMER NEWELL NEWHART NEWMAN NEWSAM NEWSOM NEWTON NICHILL NICHOLS* NICHOLSON* NICKEL NICOLS NIELAND NIGHSWONGER NITCHER NOBLATT NOE NOKES NOLAN NOLTE NOONAN NORCOTT NORMAN NORRACKI NORRIS NORTHRUP NORTON NOVALL NOWELL NOWILL NOYES NUTTING NYE OAKES OAKLEY O'BRIEN* John O'CONNELL O'CONNOR ODELL ODER O'DONNELL O'HARA OHCK OHERN OHLER O'LAUGHLIN OLESEN O'MARA O'NEAL O'NEIL ONG OPDYKE ORAM ORANGE ORCHARD ORGAN O'RILEY ORMSBY ORR OSBORN OSBORNE OSHO OSLAND OSSMAN OSTERHAUS OTTERSTRUM OUTCALT OVERHOLT OVERROCKER OWEN OWENS OWINGS OXENDINE David, Thomas & William OZIAH Edmund E. Page,PAGE* PALMER* PANTRY PARIS PARISH PARKER** PARKS PARMENTER PARNABE PARNEBY PARRALL PARROTT PARSONS PARTRIDGE PATCH PATTERSON* PATTHOFF PATTON PAUL PAULLUS PAULSEN PAYLING PAYNE PEARCE PEASE Thomas PEAT PECK PEELER PEITZ PENCIL PENDAR PENMAN PENNMAN PENROD PEPPER PEPPERCORN PEPPLE PERKINS PERRY PETER PETERS William Peterson,PETERSON* PETSI PETTIFORD PETTIT PETTYS PEYTON PFEISTER PFERTNER PFISTER PHELPS PHILBRICK PHILLIPS* PHINGSTER PHISTER PIERCE PIERON PIERSON PIGEAT PIGMAN PIKE PILCHER PILLARS PILLSBURY PILTZ PINNEY PIPER PITCHER PITCHFORD PITTE PITTMAN PITTS PLOGHOFF PLOWMAN POALER POLLOCK POOL POOLIR POPE PORRITT PORTER* POST POTTER POTTINGER POTTS POWELL POWERS* PRATT PRENTICE PRENTISS PRESLER PRESTON PRICE* Frederick PRIESSER PRIESTER PROBASCO PROFFITT PUFF PULLEN PULLIAN PURCELL PURDY PURVIS PUTNAM QUACKENBUSH QUEEN QUICK, John QUINLAN, QUINN QUINTMYER RABER RACE RADESEY RADLEY RAFFERTY George RAGLE RAGSCALE RAISSE RALLY RAMEY RAMSEY RANDOLPH RANEY RANKIN Frederick RANSOM RAPP RAPPENECKER RASER RASTIAN RAVENNELL John RAVER RAWLEY RAY RAYBERGER RAYLE READDING READING READY REARDON REAT REAVELY RECTOR REDBURN REDDING REDMAN REDMOND REDWINE Looney W REECE REED REEF REESE Amos REEVES REGAN REHM REICHERT REID REILLEY REILY REINACK REINHARDT REINKE REISE RENCHER RENDLEMEN RENIKE RENKE RENKLE RENLAND RENNEKER RENNER RENO RENTFROW RENTH RESSER REUNE REYER REYNOLDS RHODES RICE RICHARDS* RICHARDSON RICHEY RICHMOND RICKE RICKER RICKERT RICKEY RICKMIRE RIDBURN RIDDER RIDDLE RIFENBERICK RIGEAT RIGG RILEY* RINAR RINEHART RINER RINGEL RINGER RINK RINKEL RINKER RIPLEY RISSER RITER RITTERMAN RITZE ROACH ROBB ROBBINS ROBERSON ROBERTS* ROBERTSON ROBIN ROBINSON* ROCHE ROCHESTER ROCK ROCKENBAUGH Asa ROCKENFIELD ROCKFORD RODEMYER RODGERS ROENTZ ROESLER ROESTROP ROGAN ROGERS ROHLENS ROHMAN ROLAND ROLLEY ROLLINS ROLLY ROOD ROOF ROONEY ROPER ROPIEGNAT ROSA ROSEMOND Moses ROSEMUND ROSS ROTH ROUNDS ROURKE ROUSE ROVER ROWE ROWLEY ROZELL RUARK RUBENCAMP RUCE RUCK RUCT RUDEISSER RUEL RUGE RUHL RUNDEL RUPP RUSCHPLER RUSSELL** RUST RUTH RUJTHERFORD FUTLIDGE RUTSCHMANN RYAN* RYASON SABURY SACHSE SACIA SACKETT SADDLER SALES SALIER SALZ SAMPLE SAMPLES SAMPSON SAMSON SANDERS SANDMAN SANDTFOSS SANER SANTHEWOOD SAPP SAPPEN SARGENT SASH SATERFIELD SAUERWEIN SAUNDERS SAWYER SCHAEFER SCHAFFER SCHALTER SCHAMBLIN SCHAZICK SCHEMERHORN SCHENCK SCHEPPERLY SCHERCHEL SCHILLER SCHLAPP SCHLEGEL SCHLEISSNER SCHLIERING SCHLIM SCHLIPF SCHLONAKER SCHMIDT* SCHMITT SCHMITZ SCHNEIDER SCHOEDDE SCHOFF SCHOFIELD SCHOLL SCHOLLER SCHORIETZ SCHOYER SCHRADER SCHROEDER SCHUCHMAN SCHULER SCHULTZA SCHULZE SCHUNK SCHUSTER SCHUYLER SCHWARI SCHWARTZ SCHWEEK SCHWELTZER SCHWERDFEGER SCOFIELD SCOTT* SCROGGINS SCULL James SCULLY SEAMAN SEARLE SEAT SEATON SSEBRING SEELYE SEGIN SEGRAM SEGRUM SEIGLER SEILER SEIPLES SSELIGER SELLBEE SELLS SELP SENGER SERBIG SEREMON SERGEANT SEVER SEVERNS SEWELL SEXTON SEYBOLD SEYFRIED SEYMOUR SHACKLEFORD SHADDUCK SHADRICK SHAEFER SHAFER SHAFFER SHAHAN SHANER SHANKLIN SHANNONM SHAPELY SHAPLEY SHARE SHARP SHARROCK SHARRICK SHASLEY SHAW* SHEA SHEEHAN SHEHAN SHELP SHELTON SHEPHERD SHERBURNE SHERIDAN SHERLOCK SHERMAN* SHERO SHERWOOD* SHEWMAKER SHIBLEY SNIDELER SHIELD SHIELDS SHIERIN SHIND'LD'KER James A.SHINGLETON SHINN SHIPLEY SHIPPEE SHOCKLEY SHOEMAKER SHOFSTALL SHOUSE SHUBER SHULTINS SHUMAKER SHURE SHYLOCK SIEMAN SIKES SILL SILLS SIMMENS SIMMONS SIMONS SIMPSON John B. SIMS SIMSON SINCLAIR SINERS SINGER SINKLER SIVERS SIVILIE SKEENS SKIDMORE SKIVERS SLACK SLATER SLAUSON SLEFFEN SLIMPEN SLOAN SLOEY SLONAKER SLONKGAR SLY SMALL SMALLEY SMART SMEIGH SMITH** SMOCK SMOUSE SNAPE SNOW SNOWDEN SNOWDIN SNYDER SOLLARE SOLOMON SOMES SOPER SORTER SOULES SOUTHERN SOUTHWOOD SOWELL J M C SPANN SPARR SPAULDING SPAY SPEAR SPEARMAN SPEDDY SPELBRINK SPELLMAN SPENCE SPENCER* SPENGLER SPERRY SPIECE SPILLARS SPILLMAN SPINDLE SPINDLER SPOHN SPRAGUE SPRIGG SPRINGSTEIN SPROUSE SPRY SPURR SQUAIR SQUIRES STACK STACKDALE STACKMAN STAFFORD STAGG STAGGART STALL STALLARD STALTER STALTZ STAMPS STANDPHILL STARK, Levi STARKEY,*STARKEY STARR STAUB STAUBS STAUNCH STAUFFER STAYTON ST. ANDREWS ST. CLAIR STEARNS STEEG STEELE STEESE STEFFAN STEFFEN STEFFENS STEIF STEIN STEINBREUNER STEINEGGER STEINEKE STEINHART STENGLE STEPHENS STEPHENSON STEVENS* STEVENSON STEWARD STEWART STICKROUD STIGALL STILLEY STILLSON STILLYER STILSON STINEHART STING STINSON STOBER STOCK STOCKER STOCKERT STOCKING STOCKTON STOECKER STOECKLIN STOLE STOLL STOLTAR STONE* STONEHOUSE STOUFFER STOUT STRAND STRANGE STRATTON Albert B. STRAUB STRAUBE STRAWBOW STREETER STRICKLAND STRICKLER STROBEL STROTHER STROUD STRUCK STUECKER STUFFLEBEAM STUM STUMPY STURTEVANT STUTTIG SUDDETH SUDDOTH SUGGS SUHR SULLIVAN** SUMMERS SUOR SURVELLE SUTTENS SUTTER SUTTON SLWANSON SWANSTON SWARTWOOD SWARTWOUT SWARTZ SWEARENGEN; Nelson D. SWEENEY, SWEENEY* SWAEET* SWELDER SWERT SWIGERT SWINBURN SYDEMTRICKER SYLVESTER SYPHERD TABSCOTT TAGGART WilliamTALBERT TALBOTT TALLONAGE TAMPLIN TARBOX TARPIEN TARR TATMAN TAYLOR** TEAN TEDRO TEITSWORTH TEMPEST TEMPLE TENDECK TERRELL TESLER TETERICK THAYER THEILBER THIELE THIENNE THOMAS** THOMASSIN THOMPSON** THORN THORNE THORNTON Stephen S THRASH THURNES THUNHAUSER THURABER TICE TIENEN TIFFANY TIGHE TILLMORE TILTON TIMLIN TINSLEY TIPTON TISDALE TITUS TOBIN TODD Henry TOENINGS TOGGENBERGER TOMLINSON TOOLEY TORBETT TOWELL TOWLES TOWNER TOWNSEND TRACEY TRAPP TREAT TREON TREVETHAN TRIM TRIPP TRIPPE; Joseph TRISLER TROLL TROUT TRUMBO TRUNDLOFT TRUSSELL TUCKER TULLEY TULLY TUNIS TURANT TURNER TURPEN TUSCHER TUTTLE TWOHIG TWOMBLY TYNAN UHLENBROCK ULRICK UNDERWOOD UPDEGRAFF UPHOLD USSERY UTLEY VAIL VALE VALLENTINE VAMRESS VAN VAN ARMEN VANCE VANCIL VAN CLEVE VAN COURT VAN CUNN VANDERBURG VANDERBOOM VANDERVERT VANDERVEST VAN ERWIN Jacob VANNESS, John VAN NESS, Oscar M. VAN NESS, VAN PELT VAN ROPER; Samuel VAN STAVERN; VAN ZANDT VARICIA VARIS VARNER VARNEY VAUGH VAUGHN VEIGHT VEITH VERBECK VEYETT VIALL VINSON VOCKE VOGHT VOGLE VOGT VOIGT VOLLEY VOLZ VON BURG VONEY VONING VOORHEES VORIS VOSS VOUGHN VURDEN VUILLARDOT WACHTER WADDELL WADE WADKINS WAGENKNECHT WAGES WAGGENSELLE WAGGLE WAGGONER John D. Wagner,WAGNER* WAITE WAITT WAKEFIELD WALGAMOTT WALIHAN WALK WALKER** WALL WALLACE* WALLACH WALLHAN WALLIN WALRAIDGE WALSH WALTER WALTON WAMSLEY WARD WARMAN WARN WARNER WARNOCK WARREN WARTZ WASHBURN WASHINGTON WASON WASSON WATERMAN WATERS WATKINS WATROUS WATSON* WATTS WAUGH WAUSER WAVERLING WAY WAYNE WEATHERLY Harvey WEAVER WEBB WEBBER WEBER WEBSTER WEEKS WEEMS WEHL WEIDENHAMER WEIDENHAUSER WEIGEL WEIGHTMAN WEIGLE WEIKEL WEILAND WEILER WEINGARTNER WEIS WEISBECK WEISENBURGER WEISHAUR WEISS WEISSENDAUGER WEISSHAAR WELCH** WELLS* WENSTOB WENTWORTH WENZ WERNER WESSEL WEST* WESTBROOK WESTBURGH WESTERN WESTLAKE WETHERBY H. WETMILLER WETTENGELL WETTER WHALEN WHARTON WHEATLEY WHEATLY WHEELAN WHEELER WHELAN WHITAKER WHITE** WHITELY WHITESIDE WHITESIDES WHITLOCK WHITMAN WHITMORE WHITNEY WHITNOUR WHITTAKER WHITTICO WHITTLESEY WICK WICKS WICKWIRE WIDMEIER WIESE WIESSMAN WIKIEL WILD WILDER WILHELM WITKINS WILKINSON WILKISON WILLETT WILLIAMS** WILLIAMSON WILLIS WILLSHIRE WILLSON WILMETH WILSEY WILSON** WINDLE WINES WINFIELD WINGATE WINGEARD WINGET WINN WINNECK WINSHIP WINSOR WINSTAF WINZER WISE WISEMAN WISENBERGER WISNER WISSEN WISTIEL WIZZARD WOLL WOOD** WOODAPPLE WOODCOCK WOODS WOODWARD WOOKEY WOOLRIDGE WOOLWEAVER WORLEY WORTHINGHAM WRIGHT* WURMB WURTZ WYATT YAGER YATES YECK YETTER YOUNG* ZAELKE ZAZHN ZAHRINGER ZAREMBO ZELLER ZICKLE ZIEGLER ZILLION ZIMMERMAN ZWALD