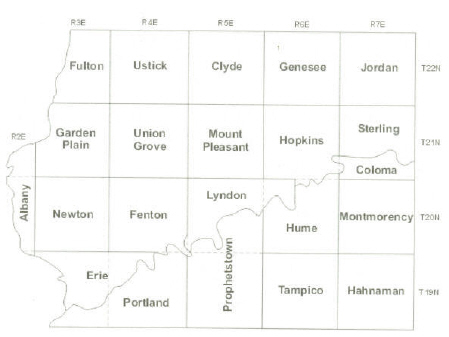 Click here to make a donation. Thank you!
Source: Book - History of Whiteside County, Illinois, Biographical and Family Sketches
Edited by: Charles Bent (for ten years editor and proprietor of "The Whiteside Sentenel," of Morrison, ILL)
Morrison, Illinois 1877
Entered according to Act of Congress, in the year 1877, by Charles Bent - In the office of the Librarian of Congress, at Washington.
Reprinted by: Higginson Book Company, Salem MA
RELATED LINK: Index to Historical Information on Whiteside County, IL 1877
INDEX (by Township)
Note: These biographies were not listed in alphabetical order in the book. Until I have time to do that, you will need to read through entire list for your surname. Click on highlighted name to link to transcription of biography. If your name has not been transcribed, please email me for the transcription - PLEASE include the source you are referencing!
HAHNAMAN TOWNSHIP:Biographies:
Amos Reeves; Dr. Reuben Davis
HUME TOWNSHIP:Biographies:Charles Wright; William Ramsey; David Ramsay; Josiah Scott; Lyman Baker; David Cleaveland; John H. Plumley; Marlon C. McKenzie; John C. Paddock; Rodney C. Crook
PORTLAND TOWNSHIP:
Biographies:Norman B. Seely; Alexander J. Seely; Mitchell Ruxton; Horace Burke; Simeon Fuller; P. Bacchus Besse; Simeon Chaffee; John South Rowe; Robert Getty; John Baxter; Alphonzo Brooks; William H. Cushman; Joy H. Avery; Christian Benson; Daniel Blaisdell; Levi Fuller, Sr.; Robert Thompson; John Smith Logan; James Rowe; Guy Ray; Hiram Harmon; Roderick M. Besse; Jeduthan Seely, Sr.; Col.. Ebenezer Seely; Horace G. Seely; Lewis Arnett; Job Dodge; Jacob Arnett; Jesse Slawson; Amos Young; Walter Young; Alden Tuller; Samuel Hall; Ephraim Summers; Smith Hurd; Daniel F. Cole; Horace B. Cole; Andrew T. Bracken; Robert Woodside; James Graham; John P Welding; James, William T., and Anderson S. Crozier; Charles Tillotson; Robert Mead; John Kempster; Chauncey Reynolds; D. Porter Brewer; Hiram McKenzie; Jeremiah H. Johnson; John Laird; Hiram Underhill; Lodoic Underhill; George McCormick; Asa Maynard; William Maynard; Dr. A. Plympton; Martin Reis; Philip Rapp; William S. Crane; A. T. Wiggins; Benjamin Dow; Thomas Jefferson Dow; Arbela Adams; William P. Tabor; Caleb P. Lanphere; Lewis C. Underwood; William Graham; Levi Fuller, Jr.; Nathaniel Norton; Russell Warren; Chauncey Rowe; Benjamin and Thaddeus Smith
TAMPICO TOWNSHIP:Biographies:John W. Glassburn; John C. Aldrich; Daniel Foy; Rufus Aldrich; Aaron S. Miller
PROPHETSTOWN TOWNSHIPBiographies:
Asa CROOK; John W. STAKES; John BOWMAN; William HILL; Marvin FRARY; J. Sperry JOHNSON; Alonzo DAVIS; Nathaniel G. REYNOLDS; Anthony J. MATTSON; Isaac Colin SOUTHARD; Thompson F. CLARK; Edward S. GAGE; Joshua F. WALKER; Freeman J. WALKER; William Richmond MCKENZIE; Harry SMITH; Erastus G. NICHOLS; Ethan NICHOLS; Jabez WARNER; John S. WARNER; Ashley BOOTH; Calvin WILLIAMS; John FARNUM; Alanson STOWELL; Elias C. HUTCHINSON; David UNDERHILL; William T. MINCHIN; Henry OLMSTEAD, Sr.; Oliver OLMSTEAD; Daniel OLMSTEAD; Harmon SMITH; Lewis BROWN; Stephen CROOK; Robert SMITH; Samuel JOHNSON; David WOODWARD; Stephen D. SMITH; Obadiah W. GAGE; Johnson W. GAGE; Silas MARTIN; Luther B. RAMSAY; Sampson ELLITHORPE; Horace ANNIS; Lawrence WALLS; Edward WRIGHT; Henry TULLER; Jeduthan SEELY, Jr.; Nathan THOMPSON; Alexander G. THOMPSON; William THOMPSON
Newton Township: Wm Booth;
Sterling/Coloma Twp: Asa Emmons;
With the exception of Portland Township & Prophetstown Twp., I am only posting the townships that fall in the areas encompassed by the Tampico Area Historical Society (due to space limitations on this site). Of course the book has all of the Whiteside townships. The book is available in our Family History Library/Research Center for your review. You can check for a copy in your local library, check eBay for a copy of the book, or contact Higginson Book Company to purchase a reprint - www.higginsonbooks.com