Tampico Tornado, Thursday, December 25, 1947
Page 1;1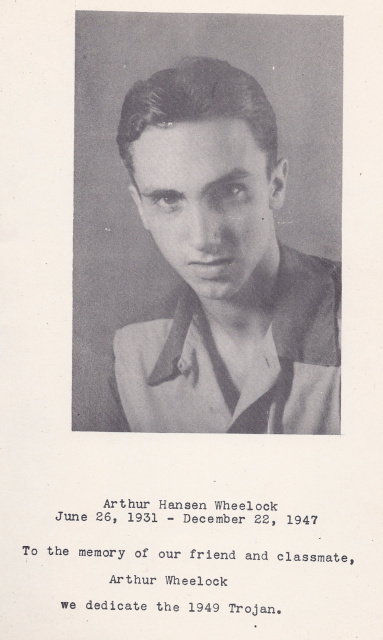 ARTHUR WHEELOCK KILLED ACCIDENTALLY
This community was shocked on Monday afternoon to learn of the accidental death of Arthur Wheelock, 16 year old Tampico high school junior. Athur was very popular among his schoolmates and with his neighbors and friends. His family have the deepest sympathy of everyone in the entire community in their loss which seems all the more tragic at this holiday season.
The exact cause of the accident will never be known. Arthur was alone in the barnyard, loading boards on to a wagon. He had a habit of taking a .22 rifle with him when he was working about the farm and it is thought he leaned the rifle against the fence and that in some way it was discharged, possibly by a hog in the lot or perhaps a falling board. The bullet struck him in the heart but owing to the small callibre he lived long enough to crawl 20 or 30 feet before he passed away.
Mrs. Wheelock who had rung the dinner bell twice became alarmed when he didn'tanswer and on looking for him, found himn where he had fallen.
Mr. Wheelock was away at the time and neighbors came to her assistance until the family could be notified.
The body was taken to the Wheelock funeral home in Rock Falls where an inquest was held Tuesday afternoon.
Funeral services will be conducted at 1:30 Friday afternoon in the Wheelock Funeral Home, Rock Falls, with Rev.Hollis Warton of the Tampico Methodist Church officiating. Burial will be in the Tampico Memorial Cemetery.
Arthur, son of Cecil L. and Agnes H. Wheelock, was born June 26, 1931. He received his grade school education in the South Hume School and was a Junior in Tampico High.
He is survived by his father and stepmother, Mr. and Mrs. Cecil L Wheelock of Tampico; two brothers and two sisters, Keith L of Galt, Bernadine (Mrs. LeRoy McCombs) of Garden, California; Wayne of Tampico; and Gladys (Mrs. Harold Werner) of Mendota and a step-brother, PFC Eugene Brinkman in Japan.
His mother preceded him in death January 20, 1934.