Submitted by Dianne Brown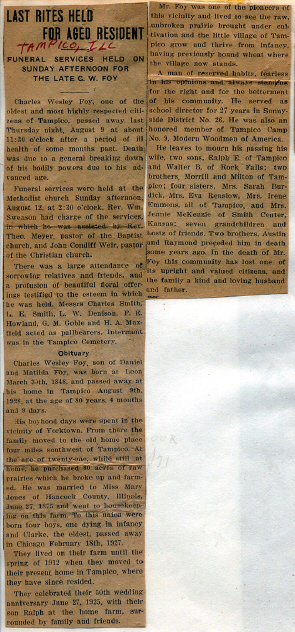 Last Rites Held For Aged Resident

FUNERL SERVICES HELD ON SUNDAY AFTERNOON FOR THE LATE C. W. FOY

Charles Wesley Foy, one of the oldest and most highly respected citizens of Tampico, passed away last Thursday night, August 9(?) at about 11:20 o'clock, after a period of ill health of some months past. Death was due to a general breaking down of his bodily powers due to his advanced age.

Funeral services were held at the Methodist church Sunday afternoon, August 12, at 2:30 o'clock. Rev. Wm. Swanson had charge of the services, in which he was assisted by Rev. Theo Meyer, pastor of the Baptist church, and John Condiff Weir, pastor of the Christian church.

There was a large attendance of surviving relatives and friends, and a profusion of beautiful floral offerings testified to the esteem to which he was held. Mesrs. Charles Smith, L. E. Smith, W. W. Denison, P. R. Howland, G. M Goble and H. A. Maxfield acted as pallbearers. Interment was in the Tampico Cemetery.

Mr. Foy was one of the pioneers of this vicinity and lived to see the raw, unbroken prairie brought under cultivation and the little village of Tampico grow and thrive from infancy, having previously **** wheat where the village now stands.

A man of reserved habits, fearless in his opinions and always **** for the right and for the betterment of the community. He was also an honored member of Tampico Camp No. 9, Modern Woodmen of America.

He leaves to mourn his passing, his wife, two sons Ralph E. of Tampico and Walter B. of Rock Falls, two brothers, Morrill and Milton of Tampico; four sisters, Mrs. Sarah Burdick, Mrs. Eva Renslow, Mrs. Irene Emmons, all of Tampico, and Mrs. Jennie McKenzie of Smith Center, Kansas; seven grandchildren and hosts of friends. Two brothers, Austin and Raymond preceded him in death some years ago. In the death of Mr. Foy this community has lost one of its upright and valued citizens, and the family a kind and lvoing husband and father.