P-town Echo Dec. 29, 2015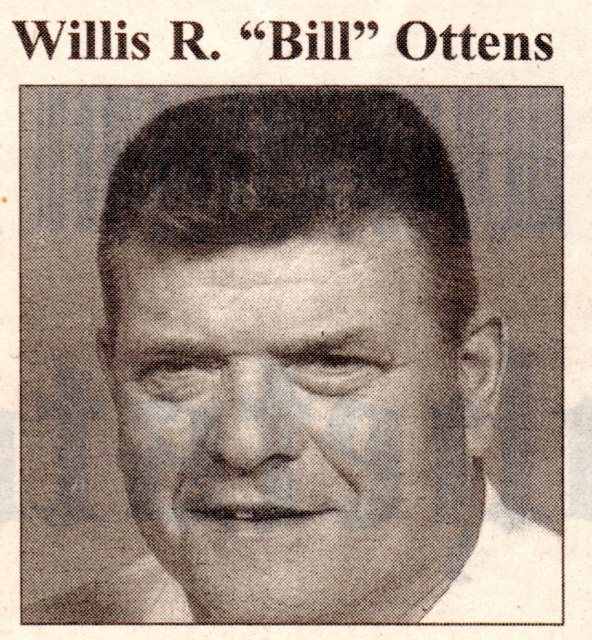 WILLIS R. "BILL" OTTENS, 79, of Morrison, IL, died Wednesday, December 23, 2015, at CGH Medical Center, Sterling, IL.
There will be no visitation or funeral service. Cremation rites have been accorded. A memorial service will be held at a later date.
Bill was born January 30, 1936, in Morrison, IL, to Ren and Cornelia (Tegeler) Ottens. He was educated in the Union Grove grade school and was a 1954 graduate of Morrison High School. He was a veteran of the U.S. Navy, serving on the USS Hancock. He married Carol F. Bender on September 10, 1960, in Prophetstown, IL. She died April 15, 1997. Bill engaged in farming with his father in the Union Grove area until 1980. He first worked for J. A. Bull & Sons in Union Grove and then started his career with General Electric in Morrison in 1963 working there until retiring in 1998, Bill was a member of the Morrison Dunlap Lodge #321 AF & AM and the Eagles Club Arie #705 in Clinton, IA. Bill was a NASCAR fan and enjoyed traveling. He excelled in all high school sports and was an inaugural inductee into the Morrison High School Athletic Hall of Fame. Bill's life philosophy was "Work Hard and Play Hard." He enjoyed visiting with people and "going on tour."
Survivors included on daughter, Lori (David) Moeller of Streamwood, IL; two sons, Michael (JoAnn) Ottens and Mark Ottens both of Morrison, IL; three grandchildren, Jennifer Moeller, Samuel Ottens, and Thomas Ottens; four sisters, Ruth Wilkens of Brookfield, WI; Rachel Groharing of Prospect Heights, IL; Joyce Kimmel of Pal Harbor, FL; and Judy Steele of Princeton, IA.
He was preceded in death by his parents and his wife, Coral.
To send online condolences go to www.bosmarenkes.com.