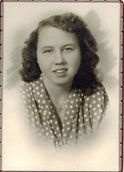 Wilma R. Koenig
Wilma R. Koenig, age 87, of Tampico, died Sunday, July 23, 2017 at Prophets Riverview Good Samaritan Center.
Wilma was born February 17, 1930 in Tampico the daughter of Robert and Carlene "Carrie" (VonHolten) Koenig. She was a homemaker. Wilma was the organist at St. Paul Lutheran Church in Yorktown for 52 years and enjoyed dairy farm work especially working with the calves.
Survivors include her brother, Oscar E. Koenig of Tampico and several cousins.
She was preceded in death by her parents.
Memorial services will be Thursday, July 27, 2017 at 10:00 AM at Immanuel Lutheran Church in Rock Falls with Reverend Bree Truax officiating.
In lieu of flowers, a memorial has been established to Immanuel Lutheran Church in Rock Falls.
Online condolences may be sent to www.mcdonaldfuneralhomes.com.