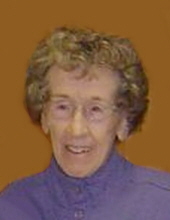 LORETTA JEAN CROW, 97, of Prophetstown, IL, formerly of Morrison, IL, died Thursday, September 3, 2020, at Allure of Prophetstown in Prophetstown, IL.


A graveside service will be held at 3:00 PM Thursday, September 10, 2020, at Liberty Center Cemetery in Liberty Center, IA. A public visitation will be held from 9:30 to 10:30 AM Thursday, September 10, 2020, at the Morrison Chapel of the Bosma-Renkes Funeral Home. A memorial has been established to John L. Lewis Museum in Lucas, IA.

Loretta was born January 25, 1923, in Lucas, IA, to James T. and Marie L. (Schade) Crow. She attended school in Lucas, IA, graduating from the local high school. She later lived in Des Moines, IA, with her sister Harriet, before joining the United States Navy in 1943, where she served as a store keeper second class stationed at Pearl Harbor. She then worked as a doctor's assistant and receptionist for Ward B. Manchester MD from 1946 to 1977, helping in various different ways around the office. Loretta was a member of the Wa-Tan-Ye ladies organization and the Morrison United Methodist Church. She also was a member of the Morrison Sportsman Club and the Royal Neighbors of America. Loretta loved doing crafts and sketching. She enjoyed doing identification of wild flowers, fossils, and birds. Loretta enjoyed and taught herself all about literature, music, geology, and astronomy. She loved going tent camping out in the wilderness. Loretta took multiple trips to Scotland with her sister, Sheila and nephew Bryan, to see where their family originated from.

Survivors include one niece, Susan Raser of Cooper, TX; two nephews, Gregory (Kathryn) Raser and Bryan Raser both of Prophetstown, IL; many great and great-great nieces and nephews.

She was preceded in death by her parents; three sisters, Sheila Raser, Harriet Crank, and Verda Crow.

To send flowers or plant a tree in memory of Loretta Jean Crow, visit the Tribute Store.
VISITATION
Bosma-Renkes - Morrison Chapel
404 Lincolnway East
Morrison, IL 61270