Source: The Biographical Record of Bureau, Marshall Putnam Counties, IL
Originally published 1896 S. J. Clarke Pub. Co. Chicago, IL
Transcribed by: Denise McLoughlin
Tampico Area Historical Society
www.tampicohistoricalsociety.citymax.com
Pages 572-75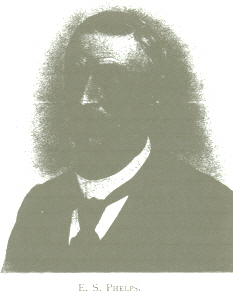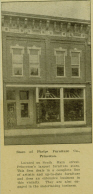 Ebenezer S. Phelps, a leading furniture dealer andundertaker of Princeton, where he established his present business in 1860, is a native of Hampshire county, Massachusetts, and a son of Charles and Mary Phelps, whose births also occurred in the old Bay State. In Princeton our subject was reared and educated, having come here with his parents in 1836, and at Springfield, Illinois, learned the cabinetmaker's trade. From 1856 until 1859, he worked at his trade at Cedar Falls, Black Hawk county, Iowa, and then returned to Princeton, where for a time he was employed with his father-in-law, E. M. Fisher, in the circuit clerk's office.
As before stated, Mr. Phelps began the furniture business in 1860, under the firm name of W. H. Green & Company, but a year later purchased his partner's interest, conducting the business alone until 1870, under the name of E. S. Phelps. For three years the firm was then Phelps Brothers, his partner beinghis brother George, who returned to Massachusetts. Then Charles Phelps, his father, took brother George's place under the style of E S. Phelps & Company, and this partnership lasted until the death of the father, in July, 1874. In 1882, our subject sold out to P. J. Newell. In 1889, Mr. Phelps resumed business again, becoming a member of the firm of Phelps, Houch & Company, which was composed of E. S. Phelps, C. W. Carpenter and G. W. Houck. Our subject purchased Mr. Houck's interest in 1892, and the firm name has since been changed to The Phelps Furniture Company, Mr. Carpenter still retaining his sharein the concern. They carry a large and complete stock of furniture in order to satisfy the demands of their extensive trade, and their undertaking establishment is also complete, including a fine hearse. They receive a liberal share of the public patronage, and their business is on a good and solid footing.
On the 20th of December, 1857, was celebrated the marriage of Mr. Phelps and Miss Sarah A. Fisher, daughter of E. M. and Jane Fisher, of Belmont county, Ohio. One child graces their union, Harry P., now in the boot and shoe business in Kansas City, Missouri. He married Emma Farnham, daughter of Rev. Lucien Farnham, one of the oldest ministers in the Congregational church, of Princeton, Illinois, and who died at Newark, Kendall county, Illinois The wife of our subject is an earnest member of the Congregational church of Princeton, while socially he is connected with the Masonic order, and politically is a firm prohibitionist. They are well known and highly respected citizens, and have a host of warm personal friends in the community.