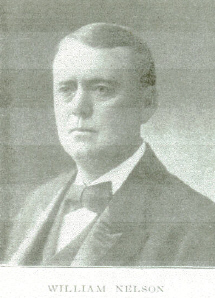 William Nelson, one of the most eminent citizens of Rockford, was born at Sycamore, Ill., Oct. 29, 1857. His father was John Nelson from Kärrakrä, Vestergötland, the inventor of a knitting machine which has played an important part in the industrial development of the city of Rockford. After manyyears of experimental work he succeded in making a practical machine, which was subsequently brought nearer and nearer to perfection by the inventor and his sons. William Nelson, who became a partner of his father at an early age, has steadily developed the knitting factory founded by the elder Nelson, until it isnow one of the largest of its kind in theUnited States.
As a youth Mr. Nelson attended the public and high school of his home city. He is married and has a family of five children, named Lovisa, Elsie,Dorothy, Hilding and William. Mrs. Olivia Nelson was born July 20, 1867, at Bakhillsäter, Vermland.
Mr. Nelson has extensive manufacturing and business interests. He is the president of the Forest City Knitting Company, vice president of the Nelson Knitting Company, president of the Nelson Hotel Company, and vice-president of B.F. Barnes & Co. He is a member of the following: Masonic bodies, viz: Freeport Consistory, Shriner of Tebala Temple, Rockford, and Knight Templar of the Crusade Commanders of that city.
On Jan. 28, 1901, he was appointed one of the aids of Governor Richard Yates, with the rank of Colonel. Not long afterward, Col. and Mrs. Nelson entertained Gov. and Mrs. Yates at their beautiful home on North Main St., together with a number of othr distinguised guests. The occation being one of the most splendid in the social affairs of Rockford.