The book, "History of the Swedes in Illinois, Part III – Biographical Sketches with Portraits – Counties at Large," by Ernst W. Olson and Martin J. Engberg, printed by the Engberg-Holmberg Publishing Company, Chicago, 1908.
REPRODUCED ON CD PURCHASED FROM BUOYGOD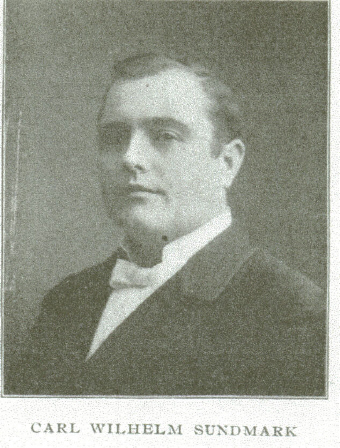 CARL WILHELM SUNDMARK
Carl W. Sundmark, pastor of the Swedish Baptist Church, was born at Smedjebacken, Dalarne, Sweden, Dec. 16, 1865. In early life he had a great desire for an education, which, however, was limitted to that acquired in the common school, supplemented by a little private instruction. He was employed at the Fagersta factory in Vestmanland, where he loearned the blacksmith's trade. He emigrated in 1886, locating in Norther Michigan. While in Sweden he had often conducted religious meetings and this he continued among his brethren in faith in these localities, Subsequently accepting a call to preach temporarily in the Baptist Church at Ludington and later to become its regular pastor. He was ordained in 1888 for the said charge. The following year he entered the Swedish Department of the divinity school of the University of Chicago, and was graduated in the spring of 1893, when he assumed charge of the Salem Baptist Church of Chicago. Although serving only a year, the number of members through his efforts was increased from 40 to more than 80. He next took charge of the church at Stromsburg, Neb., where he had served while a student, and now served from 1894 to 1897 as its pastor, afterwards serving the Harlem St. Baptist Church of Worcester, Mass., for an equal period. In 1900, hearkening to a call from his birth place, he returned to Sweden and served for two years as pastor of the Baptist flock in Smedjebacken, Dalarne. After laboring a short time in Jamestown, N. Y. he removed to Rockford, and since April 1, 1903 has served as pastor of the Swedish Baptist congregation, which was organized in 1880 and now has a membership of 270.
Sept. 6., 1893, Rev. Sundmark was united in marriage to Miss Ida Johnson, born in Mead, Neb., Sept. 5, 1871. They have four children born in the order named: Ruth Ethel W., 1897; F. Adelia, 1899; Florence Dorothy, 1904, and Roger William, 1906.