Source: History of the Swedes in Illinois - Part III
E. Olson & M. Engberg
Chicago, Illinois 1908
Reproduced on CD by George Wolf
Transcribed by: Denise McLoughlin
Tampico Area Historical Society
www.tampicohistoricalsociety.citymax.com
Page 252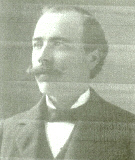 MARTIN P. ROSENDAHL, who has been established in Evanston since 1891 as a painter and interior decorator, came to Chicago in the spring of 1888 and worked in that city until the next fall, when he located in Evanston. After three years he went into business in partnership with M. L. Holmgren. In 1893 this firm was dissolved and Mr. Rosendahl started a business of his own. He is today one of the leading painters and decorators in the city.
Mr. Rosendahl does not permit business to engross his attention to the exclusion of higher interests. From 1893 to 1897 he acted as secretary of the congregation. Since 1893 he has been on the board of trustees and served as its treasurer. Since 1896 he has been on the board of deacons also and acts as its secretary. Mr. Rosendahl has served for several years as Sunday school superintendent and has been active in behalf of the church in various minor capacities.
Mr. Rosendahl was born in Östraby, Skáne, Sweden, June 16. 1867. His father, Per Svenson, who was the owner of a country estate, died in 1882, and his mother, Elna Mártenson, in 1906, both at Östraby. The son, after completing the common school courses, was educated in the technical school in Malmö, in which city he learned his trade.
Mr. Rosendahl has been twice married. His first wife, whom he wedded in 1893, was Miss Louisa Gustafson, who died within four monhs after marriage. Jan. 18, 1902, he took a second wife, Miss Lydia R. Dahlström, daughter of August and Augusta Dahlström of St. Charles, Ill. Three children have been born to them, Eleanor Violet, Dec. 1, 1902, Martin Carl Irving, Oct. 18, 1904, and Marie Lillian, Aug. 23, 1906. The family residence is at 915 Greeleaf St.