Source: History of Swedes in Illinois, Part III, E. Olson & M. Engberg, Chicago, Illinois 1908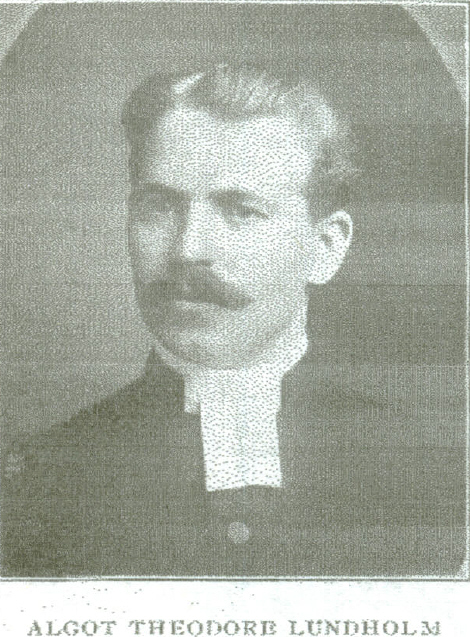 ALGOT T. LUNDHOLM was born in Svarttorp, Nashult parish, Sweden, March 21, 1873, and emigrated together with the family in 1884, locating at Winthrop, Minn. He attended Gustavus Adolphus College at St. Peter, Minn, and was graduated with the class of '99 with the degree of A. B. Subsequently he pursued divinity studies at Augustana Theological Semitary, being graduated in 1902 with the degree of B. D. Upon ordination he assumed charge of the Swedish Lutheran congregation of Aledo. In 1906 he removed to St. James, Minn., pursuant to a call from the Swedish Lutheran Church at St. James, Minn.
Rev. Lundholm was married Oct. 29, 1902 to Lydia Maria, daughter of John Olson of Minneapolis, born Jan. 11, 1882, at Nedre Ullerud, Vermland, Sweden. The wedding was celebrated at Winthrop, Minn, where Rev. Lundholm's parents are farmers.